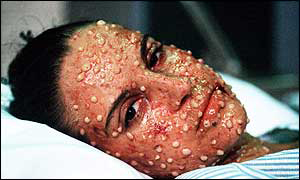 "México tiene 65 millones de jóvenes sin vacunar, ¿repetiremos nuestra historia de 1521?"
Ver/see capítulo/chapter 1 (Imagen tomada de Google-Images)
En esta página Ud. encontrará el libro completo
BIOTERRORISMO, ARMAS DE DESTRUCCIÓN MASIVA Y ETICA
para su consulta en forma gratuita. Usando los vinculos siguientes Ud. puede consultar el libro completo o por capítulos. Si decide consultar el libro completo es probable que tenga que esperar unos segundos para que abra completamente. Le sugerimos empezar por el Indice General del libro para conocer el contenido de cada capítulo.
Note que el libro o capítulos estan en formato PDF. Para accesarlos se necesita el Adobe Reader, si su computadora no lo tiene instalado, lo puede hacer gratuitamente pulsando
aqui
In this page you may consult the complete book
BIOTERRORISM, WEAPONS OF MASS DESTRUCTION AND ETHICS
free of charge. In the following link you may consult the complete book or per chapters. If you decide to consult the complete book you may have to wait a few seconds while it opens completely. We suggest that you begin browsing through the General Index of the book to learn about the contents of each chapter.
Note that the book or chapters are in PDF format. To access them, you need to install Adobe Reader on your computer, you may download it for free pulsating
here